25 Event Themes That Ooze Style
Admire or get inspired by some of these new and classic event themes that have a stylish twist.
An event theme is the central idea upon which the rest of the event is based and can therefore be the event success or downfall, so be sure to choose wisely. It can help to add structure and style to any event, regardless of the type or budget. While you may recognize some of these classic theme ideas, some are completely out there, but all have a twist of originality to them that make them stand out from the crowd and ooze style!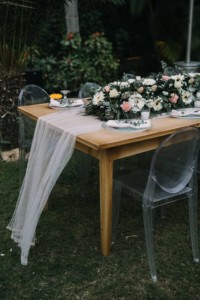 Futuristic Framing
This futuristic themed entrance for the Asian Art Gala sets the tone for the event inside and gives insight into the theme of the gala itself. Using almost entirely LED tube lights it not only frames the entrance but gives a TRON type vibe of the future.
Unicorn Dreams
Unicorns and fun adult dreaming ideas are a cute trend to try with unlimited potential. It's all about the bright rainbow colors and a lot of childish fun. It doesn't have to be tacky and can be all about the style with this themed table setting idea.
White and Black Memories
Make an event theme special by incorporating two main element. Using a simple White and black color scheme.
Black Tie
You can't beat an old favourite ball and black tie event. Whether it is the venue, place setting or the theme itself, it definitely has an element of class!
Contemporary White
Choose block colors and stick to them throughout all styling choices for an event theme that makes an impact.  Even the small details such as the see-through chairs have been chosen to keep in with the theme and not detract from the aesthetic and the centerpieces and venue technology help to give it a more contemporary feel.
Cinderella's First Birthday
Every kid at some point wanted a Disney or princess themed birthday!
Blushing Florals
For higher budget events you can make it all about the flowers and base the theme and colours on the best blooms! This blush coloured themed wedding by YS Wedding  is definitely stylish and luxurious.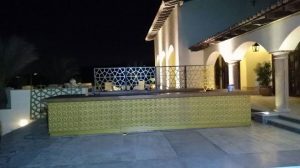 Corporate Gold
Just because it is during the day doesn't mean a corporate event can't have a touch of evening glamour and style. Even a corporate meal can make a lasting impression by incorporating a theme such as this sleek gold and black color scheme.
Old Hollywood
This fun and classic theme favorite just oozes extravagance and incorporates a beautiful era that can suit a range of event types from galas and fundraisers to weddings  with big lavish feathers, glitter, gold and pure white.
Winter Wonderland
You would think that there is no way to spruce up and surprise using the winter wonderland theme can be a stunning wedding display idea. Using cascading flowers, lighting all white elements it has turned this decor into an ice palace, minus the freezing temperatures.
[break]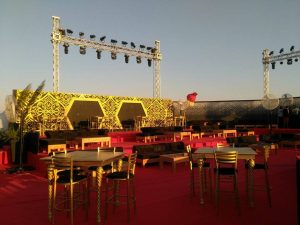 Traditional Valentines
Whether on Valentine's Day or simply creating a love celebration for the event itself, a valentine's or love theme consisting of reds, pinks and silver doesn't have to be overly feminine.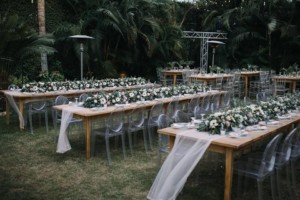 Garden Glam
Bring the garden indoors for a great eco-friendly themed event by. Using potted plants and planters as centrepieces and hanging décor there is minimal waste and can be reused time and time again. You could also give them as favours to guests after the event is over and encourage green living or ideas.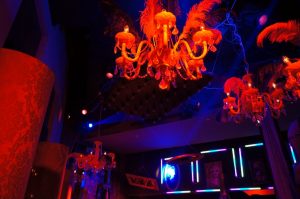 Great Gatsby
This era, time period and novel can all make fantastic event themes and the roaring 20's were all about class, style and sophistication which is great inspiration for various aspects of an event. 
[break]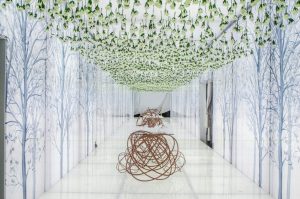 Destination Theme
Transform your event into the destination of your choosing regardless of where you actually are, like this white themed event in the picture above by www.allamz.com.
[break]
Simple Nautical
Whether your clients or guests have any connection to the sea or not, a nautical themed event can be a classy option that isn't only reserved for the beach or seaside.
[break]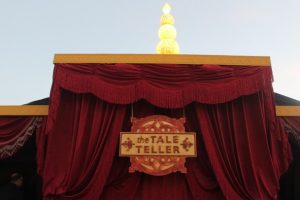 Novel Themes
Recreate elements from a favourite book or novel and twist them to suit the narrative or type of event. For example this theme organized by www.byganz.com and design and production by www.allamz.com adds the story elements that would make it noticeable without going overboard on props and other ideas, to create the perfect mix of classy and indulgent.
[break]
Fun & Whimsical
Fun and whimsical or circus themes can take on a sophisticated tone by creating fun event.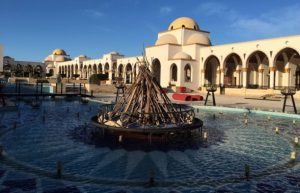 Indian rustic event
Opting for an Indian rustic theme doesn't mean you have to exclude style completely. As shown above you can stick to your outdoor theme with hay bales but spruce things up with Fire bowls and fire stands.

Magical Tea Party
Even simple or small events can be brought to life like this tea party.
 With the Greek lounge www.werentegypt.com it sets a magical scene that all guests will enjoy, showing the effort that has gone in, without being too serious.
Ice Hues
Not all themes have to be clearly obvious but just by having one it can make the room seem more coherent. Try using different shades of the same color to mix up an event theme if you are trying to add layers and dimension to the decor, like table settings in keeping with the ice theme combined with the see-through chairs www.werentegypt.com, assorted glassware and ombrè flower centers it creates great, classy, understated theming.
Vintage Masquerade
Masquerade themes are always a fun option, especially by going vintage to incorporate beautiful options like these from  This vintage theme can also then be reflected in the decor for a mysteriously stylish event.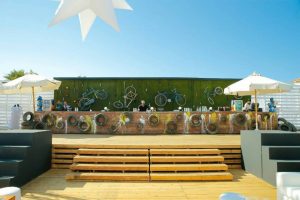 Spring Sunshine
Celebrate a season at your event with a theme that incorporates colors, flowers and the weather making yellow the prominent color and incorporating it into all aspects of the styling using specific in season flowers helps to enhance the event experience. The beautiful spring day definitely helps back this up for this opulent affair.
In Conclusion
Choosing your event decor and theme will determine how your event ranks in the style stakes and how it is received by your guests. The way you present your event decor and the styling choices you make can be understated or purposefully over the top. Whether you are looking for some new inspiration or some fun ideas to give a classic theme a new twist, here are 25 stylish event theming ideas to inspire your future events.