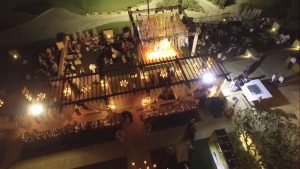 From conferences and trade shows to baby showers and weddings, here are 100 innovative ideas to select your perfect event theme and to show you how it's done.
Many event planners find that a theme can help add structure to the decor and activities as well as tie it all neatly together. They can be a great way for your attendees to get involved and it can be a fun participatory activity in itself, while creating plenty of photo opportunities.
Themes can also create a buzz prior to the event as guests discuss how they can interpret the theme, what they are going to go as, what their friends are trying and whether they can do joint costumes which can be great corporate team building. Regardless of the event type, there is a theme to transform your event, improve user experience and only make the whole thing better.
 1. Neon Garden
The neon theme has always been popular at raves or music events and it has recently found itself trickling into other event styles. This has seen the development of 'color runs', which involves attendees having neon paint and powder thrown at them
 2. Escape Rooms
An excellent corporate team building idea and a perfect event if you are looking to get attendees involved and problem-solving. It's memorable and gets the adrenaline pumping without major sports and adventure, which is perfect for certain demographics.
3. Great Gatsby
A very popular theme idea that suits balls, galas, weddings and black tie events because of the lavish decor choices and the flowing gowns. This theme can be easily adaptable and if you are on a lower budget, easily represented by the gold and black color palette without any massive props or signage.
4. Industrial Event
For more pictures inspiration, browse our Event Inspiration page at www.werentegypt.com
5. Love Boat
Opt for a cruise deck theme and decor, which could accommodate a glitzy dance floor and seated dining – think Titanic ballroom, but also shipwreck and beach decor too. Event staff could dress in nautical theme or sailor outfits and guests can opt for the nautical theme too; beach bikinis or even ballgowns. Nothing is out of bounds on the love boat.
6. Classic China
Using traditional color palettes to honor the history of the destination, this event was thoroughly researched and thought out to protect the culture and represent tradition well. Creating stunning effects using digital technology as well as color schemes and decor led to a great user experience and beautiful results for this Shanghai-based event.
7. Crazy Hats
If you want to add a theme or a little fun to your serious event without expecting too much from your attendees, this can be a happy medium that allows them to wear suitable clothes of their choice but still get involved. You could even be more specific by opting for 'themed hats' instead!
8. Space Man
Evening events would work well with a space theme with dark color palettes complemented by twinkly lights and stars. You could extend this by adding planets or moons for centerpieces and table layouts, with space being the main theme. If you are including fancy dress, attendees could dress up as astronauts or aliens.
9. Mythical Creatures
From dragons, fairies and mermaids to leprechauns, werewolves and griffins, there is no limit to what you can concoct. Whether it is a made-up creature from a film, book or TV series, you can bring these mythological creatures and ideas to life.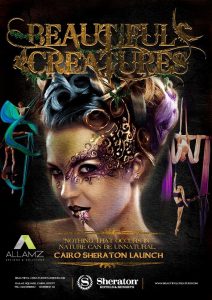 10. Wacky Races
This cartoon was the original Mario Kart and would be great fun for attendees to dress up in the characters but also it would be an excellent theme for soapbox car building, or any other race, or sporting events such as cycling or running.
11. Luau
The Hawaiians know how to throw a beach party and it's an awesome theme if you want to bring the beach to you. Have indoor luau's during the winter or cold weather to boost attendee spirit and whisk them away to a tropical island! Think beach, hula or fire dancers, inflatables and of course a feast!
12. Urban Graffiti
If you want something more locally themed or you are trying to go for an urban cityscape feel, graffiti is a great idea and you can make it digital or have artists create their own backdrops. Incorporate bold, block colors for the scheme and even add in some geometric shapes, and this theme really comes together.
3. HoeDown
This folk dancing event involves country themes, rustic décor including hay barrel seating, bunting and string lights but always make sure you have a dance floor! You could also include mechanical bull-riding or for an authentic experience, add horse trail rides and roping practice into the activities.
14. Black & White
A traditionally classy event and definitely an easy option when it comes to décor and furniture, plus it seems to be an attendee favorite as many own black suits or dresses. Black goes with everything so you can mix it up using other color themes; some favorites include black and red, black and gold, gold and white or even all white. You could also decide on the main color by choosing the leading brand color and incorporating that.
15. Carnival
Big bold colors and signage, performers, funfair rides, plenty of stalls and games, popcorn, and candyfloss treat on the snack tables are all a great places to start with this theme. You can also turn invitations into actual retro tickets and even have a big-top tent or incorporate the tent shape into another decor to really stand out.
16. People In History
Invite attendees to dress up as famous couples or figures throughout history and turn the decor and venue into a live history book. You can have walking entertainment playing historical figures and have giant props from different eras. The fun part about this is you can have different eras interacting with each other and have one area merge into another, which always makes for fun planning.

17. Game Of Thrones
With the long wait until the new series, many guests are going to be looking to get their Game of Thrones to fix and this is an excellent way to do it. Depending on your favorite characters and city can depend on the decor and whether you go rustic and wrapped up like the north, or you want to go decadent and recreate King's Landing.
18. The Orient Express
Based on Agatha Christie's detective novel Orient Express,  about a murder on the train, this idea could be a unique way to combine the elements of a murder mystery with a train or travel theme. Decor should be in keeping with the time period, as should costume, but you can have quizzes and mental challenges as part of the games and activities. If you wanted to go more literal, you could also include books as centerpieces with décor origami.
19. Oktoberfest
Consider this an event inception, one event based on another so that you can have both at whichever time of the year suits you, so you don't have to wait for October or travel to Munich! Color palette leaning towards browns and greens. Outdoor events would benefit from large tends and a small fairground if you can fit it in.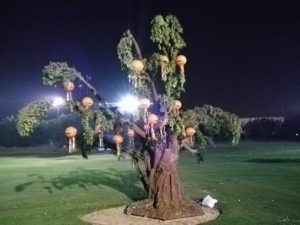 20. Harry Potter
Over 19 years later and still a phenomenon, so why not use a Harry Potter theme as there are so many elements to include. From a game of Quidditch for team building to getting your attendees to write in quills – who wouldn't want to be a wizard for a day? Floating candles create stunning lighting effects that you can use, particularly for seated eating. Browse www.werentegypt.com for lighting and lounges options.
21. Rockabilly/Grease
Rockabilly or 1950's theme is all about early rock and roll and whether you want to take directly from the favorite Grease film for inspiration and recreate iconic scenes or draw on the music and schemes from the era, you will have a hit. Drive-through, American diners, blues and country music will all work well in this theme. Bars are essential in this theme. 
22. Chocolate Heaven
Who doesn't love chocolate? This can be an excellent opportunity for some food indulgence with large fondue fountains, chocolate gift boxes or table favors as well as big chocolate props as part of the decor. Opt for cream and brown color schemes and you could also incorporate a love theme as chocolate is considered an aphrodisiac. High tables and high chairs with lounges can create a perfect atmosphere for the Chocolate Heaven theme. Wow, your guests!
23. Moulin Rouge
The movie as well as the original inspiration involves cabaret, courtesans and of course the can-can! Focusing highly on dancing and entertainment, this theme is full of vibrant reds and golds (the name does mean 'Red Mill' after all) as well as taffeta and general extravagance (think of the giant elephant!). Take a look at the picture below for inspiration.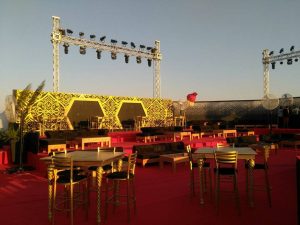 24. Mardi Gras
String bead necklaces, bold colors and masks are an excellent place to start if you are trying to recreate mardi gras. Aim for orange, pink or purple floral, feathers on the tables or included in the décor and add some french signage to top this event off. You can go as big or as little as you want in this theme and you could even recreate parade floats or have mini float-making competitions.
25. Emerald City/Wizard of Oz
The Emerald City is the destination Dorothy aims for in The Wizard of Oz and is easier to achieve than you might think. Up-lighting and digital projections can transform this venue into a green paradise. You could also incorporate the 'yellow brick road' by projecting mapping or having a yellow color carpet (rather than a red one) on the floor.
26. Atlantis/Under The Sea
Mermaids are a hot topic right now and these can easily be incorporated into an under the sea theme that includes blue lighting and decor as well as colorful or tropical fish. You could also have hanging bubbles or seaweed streamers and use shells for centerpieces which are also budget-friendly too.
27. African Safari
Think The Lion King for inspiration and include a lot of animal print into the decor. Attendees could come as exotic animals and the staff could be dressed as safari guides. You could also opt for animal stilt walkers or even have animal guests such as birds and parrots as a photo opportunity and a way of bringing fun to the event. For floral, opt for large leaves and vibrant colors.
28. Disney
A favorite for many as Disney has spanned through the ages and can be easy to adapt for adults or children, weddings or corporate. Simply pick a Disney story or movie and base your event on those. For example, a fundraising event for animals could use 101 Dalmatians for inspiration while a wedding could look to Cinderella.
29. A Day At The Farm
Add rustic simplicity to your event theme by having a day at the farm. This would suit indoor or outdoor events but be sure to use plenty of hay. Guests can come as farmers or even their favorite barnyard animals and tiny pitchfork centerpieces are a cute touch.
30. Fitness
Health and Wellness are becoming increasingly important for attendees so a healthy event theme that focuses on fitness, exercise and being the best you can be could be popular. You could encourage attendees to attend in exercise clothes and create a variety of workshops and displays focusing on different types of exercise from high to low impact. Smoothie or juice bars would be popular for drinks and an interesting salad bar would go down a treat.
31. Willy Wonka
Take attendees to a world of pure imagination using Charlie and the Chocolate Factory as the theme. Aside from the candy, you can focus more on the strange world inside the factory-like with these stunning centerpieces and entertainers. You could also send out golden tickets as invitations to guests, just be sure to use bold and powerful colors to make an impact and encompass this theme. 
32. Scottish Highlands
Mixing in with different cultures can be an interesting theme idea and immersive experience for guests. Opting for traditional Scottish Highland themes can involve kilts, bagpipes, haggis and other traditional food. You can also recreate activities or entertainment from the Scottish Highland Games events which are held between May and September each year.
33. Disco Inferno
Usually associated with a 70's era theme, complemented by mirror balls, giant dance floors and all things rainbow color and retro. Attendees can opt for big hair, flared trousers, and platform shoes while you could also choose to have rollerskating waitresses or hosts.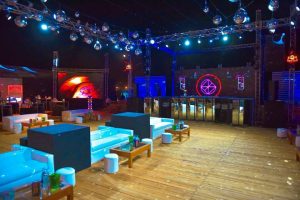 34. Fire and Ice
Two opposing sides come together to create stunning effects. You can have faux fire burners as centerpieces with ice luges at the food station. Color schemes involve amalgamating warm tones of reds, oranges, and yellows with colder blues and whites. You could opt for tables split down the middle with some seats as ice and others as fire for a cool effect.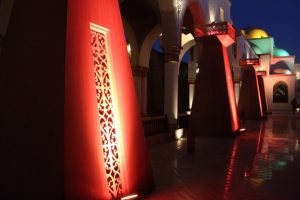 35. Alice In Wonderland
A firm favorite and with the different quirky parts of this book and movies, there are plenty of ideas to draw from. You could opt to focus on the Queen of Hearts and her croquet for an outdoor event, go down the rabbit hole and have upside-down furniture and string everyday items from the ceiling or like this example, recreate the iconic garden scene with giant flower props and indoor foliage.
36. Midsummer Nights Dream
You can create a perfect fairytale event. This theme works particularly well with outdoor spaces and evening events because of the natural glow that helps create the atmosphere. Use natural decor and white flowers, opting for branches and twigs for centerpieces to complement the theme and try to incorporate natural foods such as fruit by having a large fruit station or display.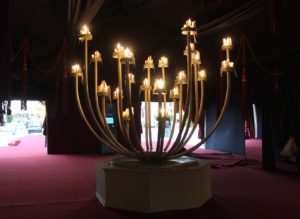 37. Diamonds are Forever
Diamonds are forever (and apparently are a girl's best friend) so make all things shiny and sparkly in your event theme. Consider having table crystals that you could also fill the flower vases with for centerpieces, use mirrors to enhance lighting and consider going for a black and silver color scheme to show off all the bling.
38. Masquerade
Mystery can make an event more interesting and a masquerade is a happy medium between costumes and formal attire, with them going very well hand in hand. A general favorite for corporate events but you could mix things up by having mask-themed catering and decor like these stunning centerpieces.
39. The Twilight Zone
An interesting Halloween theme but could also be adapted year-round and this theme wouldn't be complete if you didn't use black and white pinwheels as part of the color scheme. Add large eyes, doors or clock props and you could even throw in a few gravestones. You can also invite attendees to dress as their favorite character or re-invent their own that would befit, The Twilight Zone.

40. Ancient Greece/Toga Party
Toga parties can be fun as they encourage attendees to make their own costumes, which gets them thinking and anticipating the event in advance. You can extend this by adding a Greek mythology element for those who want to choose a specific character for the event. A lot of white or cream linen, olive branches, and foliage for decor. It can be a very budget-friendly theme as it is quite simplistic.
41. Footloose/ 80's
An 80's era theme is very popular and commonly this is associated with the 1984 musical classic, Footloose. You can adopt a variety of different ideas from the movie, whether it is turning your outdoor event into a rustic farm town or drawing on the music and adding bold, colorful decor to recreate the final dance scenes. Neon signage is a must!
42. James Bond
Bond, James Bond! An excellent theme to add to a black-tie event that can allow guests to get in touch with their inner secret agent or spy! Decor can range from anything to simple with a few motifs or themed centerpieces to something more obvious such as this stunning signage! and don't forget the signature drink: a martini, shaken not stirred.
43. Pirates
Decorate your venue like a looting ship with treasure, parrots, skeletons and of course a plank to walk! Invite guests to come as pirates and you can create interesting 'sea' effects on the walls to simulate the reflection of water inside the ship. You can also have gold chest centerpieces and even serve gold chocolate coins at the dessert station too!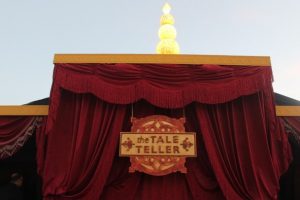 44. Medieval Banquet
Knights of the round table, banquets and king Arthur all fit this theme perfectly. You can have a large buffet to suit the banqueting style as well as swords and suits of Armour. For corporate or team building activities you could separate them into teams and have them design a coat of arms that they can use throughout the event to increase competition and enthusiasm.
45. Hippies/Summer of love
Ahh, the 60's! This is a groovy theme that involves plenty of tie-dye, peace signs, flowers, zany rainbow color combinations and if you can get a VW camper van in there, it will top it off nicely. You could easily add participatory activities for attendees such as tie-dying t-shirts which would also be a great memento to take home.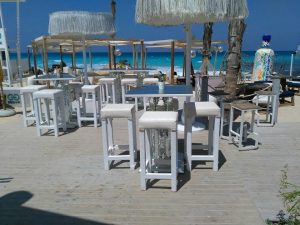 46. Roaring 20's
An incredibly popular theme and an era with flappers, prohibition, glamour and gangsters (as well as Downtown Abbey). Opt for black, white and red color schemes with plenty of feathers and pearls and as it was the time of prohibition, plenty of spirits and martini glasses are needed. Creating overflowing glass centerpieces and vintage car backdrops to make this theme a success. www.allamz.com
47. Where's Wally
Finally, find Wally by having attendees dress up in the fun red and white striped character (which are also excellent colors for this theme too.) Bring a quirky element by including busy scene backdrops for the photo booth or having places for attendees to hide away in. For trade shows and exhibitions or large event spaces, 360-video could look awesome with all these attendees and you could even get digital attendees involved to try and find a particular 'Wally' in the crowd.
48. Hollywood
Red carpets, glitz, glamour, black tie and ball gowns are all signs of a Hollywood A-list event. Many like to take this further and do an Oscar-themed event with golden statues which can be useful if your event involves prize giving. You could also include a large sponsored step and repeat to go with the red carpet and hire photographers for the evening to give attendees arriving that important, paparazzi welcome.
49. Indiana Jones
Unleash the adventure with an Indiana Jones–themed event where you can opt for artifact and skeleton props, map backdrops or part of the table settings and sandy color palettes. Hand out Indiana hats as attendees arrive and you could also set activity challenges for guests to overcome. As well as this you can include jungle-themed foliage, plenty of big leaves and even a mummy or two.
50. Winter Wonderland
An incredibly popular theme because it is so diverse and adaptable to suit the venue and budget. For high budgets, go all out and opt for snowy trees, fake snow, hanging crystals and everything blue or silver. For smaller budgets, focus on just the table settings, stage or the color scheme to create your vision as it still works regardless of the scale.
51. Star Wars
This franchise has so many possibilities, particularly with the release of the new films and this is an awesome example of a simple Star Wars theme execution. This custom bar is simple and elegant and added to themed or signature drinks creates a great experience. The hanging TIE fighters bring this theme together as if attendees are having a drink in the Star Wars universe.
52. Cosplay
Think Comic Con but on a smaller scale. Cosplay can be specific or general whereby you could pick a film, anime series, video game or even book and encourage guests to dress up as characters. Competitions for best costume always goes down a hit and it's an excellent way to create a buzz around your event. Costumes are particularly good photo opportunities, particularly if characters are interacting across 'universes'.
53. Magic/Magicians
Opt for entertainers from traditional magicians to illusionists, card tricksters or even tarot readers. Add mystical elements and keep the lighting low for an air of mystery and that magical effect. Color schemes that are a favorite are blue and gold (traditional magician's cloak colors) and red and black. Include activities such as learning magic tricks and you can keep signature theme pieces such as the fluffy rabbit, magic top hat and wand in your decor.
54. Western Saloon
Cactus, horses and plenty of whiskey will be needed for this western cowboy theme. Rustic furniture such as barrel bars or pallet seats and plenty of yellow, brown and green colors will be needed. You could also include a 'fastest draw' competition but rather than guns, include actual pictures.
55. Arabian Nights
A stunning theme with fantastic decor options that work particularly well for tents and marquees as one of the signature highlights of the theme is the aerial draping or enclosed vibes. Use warm lighting to create an atmosphere and low/floor seating from www.werentegypt.com and stools are an essential furniture choice to pull it off, even if you are including a small lounge area.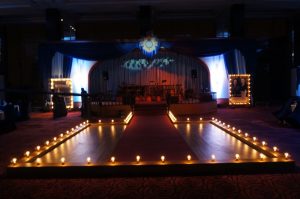 56. Après Ski
Whether you want to go skiing or not, an 'after skiing' party theme can make for an excellent Christmas or winter option as it is all about creating a cosy, yet elegant venue and atmosphere. Have skis and snowboards for props, soft lighting and if the budget will stretch, fake snow.
57. Egyptian
Ancient Egypt is all about the cat-eye makeup, head-dresses and the desert. Sandy, yellow color palettes work well and yellow lighting can easily transform plain walls to suit this theme. You could also use backdrops to accentuate a desert theme or include the pyramids and other famous Egyptian landmarks. Props of the sphinx would be an excellent touch.
58. Welcome To The Jungle
Become king or queen of the jungle with this theme, which involves a lot of plants, trees, exotic animals and animal print as well as a thone such as this one! For corporate events, an "I'm an attendee get me out of here!" style set of activities and challenges could incorporate the theme as well as fun.
59. Come Away With Me
A travel theme can quell your attendees wanderlust and is perfect if you don't have the budget to actually travel with your attendees. The two options for this theme are to choose a destination so the theme would be 'come away with me to…' and base your event on that, or opt for something broader like travelling in general. Decor could include maps or globes with themed backdrops for different countries and attendees could be encouraged to come as a representation of a country e.g. hula girls for Hawaii.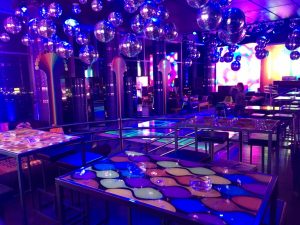 60. Murder Mystery
A murder mystery or Cluedo theme can make for an excellent participatory event that creates a unique atmosphere that is engaging but makes the guests suspicious of each other too! It is simple to put together and can be as large or small-scale as the budget requires. Plus it has the added flexibility of being able to be set in any time period or location so you could have two themes running side.
61. Retro Arcade
Who doesn't have a blast at an arcade? Opt for retro games such as Pacman, Space Invaders or Asteroids for attendees to play with and add in themed food and decor to complement the games. Darkened colors and lighting is suitable for this gamer-based event and you could opt for the bigger machines as well as older handheld devices (or combine the two with this awesome mega Mario arcade game.
62. Horror/Thriller
Recreate scenes from your favourite scary films or TV shows with this theme and raise your guests' heart rates by hosting Halloween any time of year. Fun ideas that are current are Stranger Things, American Horror Story and the new (or old) creation of IT. Take things the extra mile by hiring staff to jump out or dress up as scary characters throughout the event.
63. Outdoor BBQ
A simple and budget-friendly option that allows you to recreate summer fun, and it doesn't always have to be outdoors. Instead you can hold a cook-out inside for a corporate event by having garden-themed backdrops, warm lighting and make the dress code board shorts and casual, which is an excellent idea for a networking event. You could also create tailgating props or even themed buffet tables and lounges.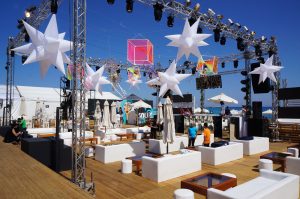 64. Candy land
Immerse your event in candy themes to satisfy anyone with a sweet tooth! These props are a cool idea that add a whimsical sense to the theme and combined with a bold color scheme could be made to suit a corporate event as well. Have retro candy as favors or centerpieces and don't forget to include a killer candy station!
65. Unicorn
Unicorns are everywhere right now and are a growing phenomenon so they'll make a great idea for public event themes. From actual unicorns to pastel colors, glitter, rainbows and clouds this is a fairly easy theme to put together and integrate with a smaller budget because it is all about the color scheme.
66. Glamping
Camping, except far more glamorous and would be ideal for outdoor events that could also need accommodation as well as corporate retreats. You could also bring the glamping indoors with draped ceilings, faux fire pit and a s'more food station, turning networking games into fireside team building, without the need to go outside!
67. Caribbean Nights
Think warm sandy beaches, sunsets and cute umbrella drinks to embody the Caribbean theme! Steel drum entertainment is a quirky idea to help transport attendees as well as inflatables, palm trees and plenty of beach décor. Sunset backdrops would be fantastic photo opportunities here as well.
68. Futuristic
This is a creative theme because you could choose to set the year in the future and mould the event and décor to suit how you see that developing. You could also make this theme more obvious by adding in the robots, plenty of metallic and silver color schemes as well as using fluorescent or neon lighting to create interesting lighting effects.
69. Superhero
A popular theme because of Marvel's movie adaptation of many popular comics and stories, which can allow you to choose from a diverse array of color schemes and characters from the dark tones of Batman to the green anger of Hulk. You could also make things more interesting by asking attendees to create their own superheroes and have a prize for the best one.
70. Casino
Having traditional casino games such as roulette, blackjack, craps and baccarat can add an exclusive feel to an event, making the décor and color schemes are very flexible. Have waiters and waitresses dressed as dealers for a quirky uniform idea and use lighting to set the tone and atmosphere. An interesting casino wedding theme idea is to add the couple's faces to printed pretend cash for guests to spend instead of real money which can be made available at the reception entrance or in goody bags at the table setting.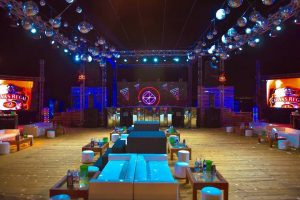 71. Outside In
Bring nature inside to create a secret garden type feel to your event like in this exhibition example! Plenty of foliage, flowers and grass effect carpet ties this theme together nicely and if the budget allows, hanging plants can give a real enclosed, garden effect.
72. Inside Out
The opposite of the above and another fun execution because it involves an outdoor event space, but with luxurious indoor furniture such as sofas and dressers brought outside. You could create entire dining rooms with rugs and carpets, side tables, tall lamps (dancing lights, Iron lamp shades from www.werentegypt.com) and even spaced apart wall partitioning with hanging picture frames on them.
73. A Night At The Movies
Create a movie theater or cinema theme by having movie props, cinema ticket invitations and even cute centerpieces like popcorn flowers. Darkened lighting and giant screens that could display a presentation or the social media wall to be dressed as a movie screen. Plus, walking food vendors selling snacks and food to guests would be a nice touch.
74. Ugly jumpers
The only time when 'worst dressed' becomes the best dressed, and this theme can have hilarious results. Guests can create or purchase what they deem to be the ugliest jumper (this could be adapted to suit other clothing items) and have to wear it to the event. There are always some strange finds and it can be an excellent ice breaker for networking events.
75. Olympic Theme
You don't have to wait four years for another Olympics to roll around if you incorporate it into your event theme. Of course it would be the perfect idea for sporting events but would also suit anything with competition based and the 'team' mentality would also be good for corporate retreats.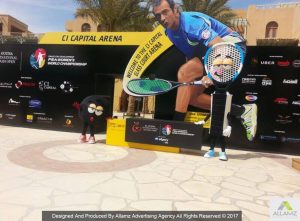 76. Zombie Apocalypse
A good, last-minute theme idea is a zombie apocalypse because you can create a 'wrecked' version of your venue, with spray paint wall backdrops, bloodied hand prints or smears on the floor and plenty of everyday items that have been abandoned. Plus, it's an easy costume choice for attendees as they 'zombify' any outfit they choose.
77. Second Chance Prom
Recreating prom can be a magical theme and adds a sense of nostalgia for many as well as building the hype. For others it will be a chance to go to a prom for the first time and either way, it tends to be popular. Big ball gowns, cheesy music, streamers and balloons and this time around, someone is allowed to spike the punch.
78. Narnia
Go through the wardrobe with this theme that has so much potential, particularly if you have a decent budget. The event entrance could be made to look like an actual wardrobe as you transform your venue into the winter scenes of Narnia (pre kings and queens) or the massive throne room and banquet hall of the coronation. Mythical creatures are also a must.
79. City of Love
As the city of love, a Paris theme can be popular with historic landmarks, delicious food and a lot of culture. Depending on your focus, you can create a valentine's or love themed event or opt for a sophisticated Paris theme with a simple color scheme to accentuate your favorite parts like in this example.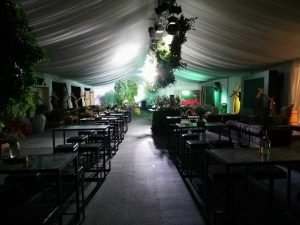 80. Up In The Air
Take to the skies with an aeroplane or up in the air theme. Quirky ideas could include:
boarding pass event tickets, pilots, stewards and stewardesses as staff, suitcase props and sky color themes. You could model the venue on the inside of an aeroplane or hang various models from the ceiling as aerial décor or alternatively make clouds and surround yourself with hot air balloons, birds and balloons. If it's in the sky, anything goes.
81. Something Beginning With…
A particularly fun theme if there is a guest or brand of honor as this involves picking a letter and having everything in the theme start with the letter. Attendees can dress up as something to do with that letter, for example, something beginning with 'C' could involve cats, cars and an eclectic roundup of everything you can think of beginning with C.
82. Drive-In Movie Theater
Bring a retro idea to life by opting to have screenings, premiers or TV-related events playing in the open air on a large screen. This idea has been on the rise as outdoor pool and rooftop cinema events are increasing in popularity as well. This event example was tied to a season finale and showcases the immersive experience you can provide your guests. You could also opt to use props from the show or movie and having roaming food vendors providing refreshments to cars for extra service.
83. A Taste of Asia
Asia is a pretty big place and you can immerse yourself in a variety of culture by having buffets with different cuisines, Kpop music, flag bunting and you could even incorporate a cooking competition with an Asian theme, which attendees bring to add to the table (an excellent low-budget idea to ensure there is plenty of food). The colors you should consider are a lot of bold reds and golds.
84. Cops & Robbers
An interesting idea that allows attendees to come as either the police or a traditional bank robber, or alternatively you could hire event staff in police (or jailer) costumes and have all attendees be inmates. With giant cells and cell bar backdrops, ball and chain props and wanted posters on the walls it can make for amazing effects. You could also try having traditional goody bags as actual 'swag bags'.
85. Ninja
Invite attendees to dress as ninjas and add in some traditional japanese decor as well as throwing stars, samurai swords and plenty of black draping for your decor. You could also include activities such as self-defense workshops and demonstrations of using the ninja tools for some wow factor.
86. Best Of British
A perfect theme for a formal afternoon or for outdoor events that involves serving plenty of Pimms and tea! The colors should include plenty of red, white and blue with traditional landmarks and icons playing into the theme such as these Queen's Guard salt and pepper shakers and the map center runner of the table.
87. Dinosaurs/Prehistoric
This is a quirky theme that, with the right budget can have fantastic effects. Choose from a jungle-orientated theme with plenty of foliage, walking mascots and even the autonomic remote dinosaurs that roar. You could also incorporate dinosaur bones and skeletons into the decor and table settings as well as asking attendees to come as cavemen and women.
88. Fairy Tales/Literary Stories
This is a popular theme with a lot of potential because you can opt to focus on one particular story or you can mix and blend them all, focusing on the books themselves and table settings. You can also include darker themes for adult events by using the traditional tales rather than the adaptations, e.g. Hans Christian Anderson's version of The Little mermaid or The Ugly Duckling. If using multiple tales and stories, be sure to be clear on what your theme is and have a proper structure otherwise it can easily be confusing for the attendee.
89. Festival
Tents, plastic cups and plenty of music is what is needed to recreate the festival vibe but what can make this theme more interesting is if it is adapted to a different type of event. For example, a festival theme for a corporate dinner could involve ceiling draping, indoor signposts, string lighting, replica trees and perhaps themed centerpieces such as tiny tents!
90. Bollywood
If done properly, this is a stunning theme that is full of vibrant colors and flowers as well as luxurious fabrics. You can have fun with color schemes here because the Bollywood theme manages to incorporate strange colors together well such as blues, pinks, purple and gold. Also, low warm lighting is essential to create the right mood and where possible plenty of floor seating and big pillows as well as fabric draping to lower the ceiling
91. Planet Earth
Consider hosting a 'green' themed event where as much as possible is sustainable and Eco-friendly, for example by having hemp or bamboo fabrics and linen as well as using a lot of re purposed items for decor, just like this dresser food station. Have green themes and earthy color choices as well as green activities such as bike assisted power that attendees can help to power the event or showcasing sustainable brands and highlighting those that aren't.
92. Big Boys Toys  
Take a look at our Event Inspiration page for more pictures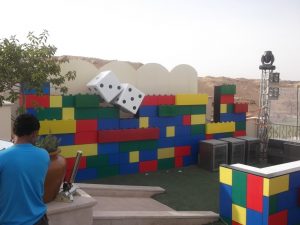 93. Glitter
The ongoing glitter trend is strong at the moment with plenty of glitter products, drinks and food being released to accommodate. With this in mind, you can opt for glitter everything, make shiny, edible glitter food, have glitter carpet and lit backdrops creating the twinkle effect and of course, insist that all guests dress glittery. You can also have glitter stations with paint and make-up for attendees to use in case what they have is not enough (how do you know when enough glitter is enough? Is there ever enough?)
94. Night At The Museum
A theme with endless possibilities as a museum could house an array of different displays. This is an excellent example that showcases the paleontology department but incorporates it into the event. The signage is an excellent touch to incorporate the hashtag and if you are able to get a museum venue you can use the exhibits as the entertainment itself for your exclusive use as part of the package.
95. Tim Burton
The weird, the wonderful and the little bit scary is the perfect way to sum up a Tim Burton theme and you could let your creative side run wild. Incorporate characters from any Tim Burton creation and remember to think strange and dark by using giant props and lighting to create ethereal effects and wow attendees. To do this theme properly, you need to have a decent budget in place otherwise it falls flat.
96. 90's TV
A 90's theme is growing in popularity as the generation evolves and a favorite is incorporating 90's TV shows. Guests dress up in their favorite characters and you have to guess the show that they are from (Saved By The Bell is a firm favourite) and you can incorporate colourfun 90's decor such as paint splatter effect backdrops, colorful origami, boyband music, massive cell phones and computers to represent the introduction of the Internet, CD's and tamagotchis. You can also include polaroid cameras for attendees to take photos and go home with a memento.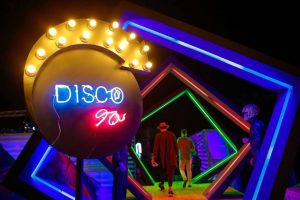 97. Speakeasy

A gin or alcohol themed event can be an excellent sponsorship opportunity that can assist with the budget and is a particular craze at the moment. A speakeasy can also incorporate the 20's theme and glamour as they originated during prohibition and were special clubs where alcohol was illegally sold. With this in mind you could create a more intimate and secret atmosphere with low lighting and ceilings as well as candles, alongside (of course) alcohol.
99. Rococo
If you want extravagance, 18th century France was the place to be and the theme seems to be making a comeback, particularly on TV. Who doesn't love a period drama with all the fancy costumes? This theme is all about style and flair, involving golds and light colors as well as music, theater and opera but as in this example it can be easily adapted to a modern event type.
99. MY BIG FAT GREEK WEDDING (INSPIRED FROM THE MOVIE)
Take an idea from YS wedding event inspiration from WERENT event inspiration page. www.werentegypt.com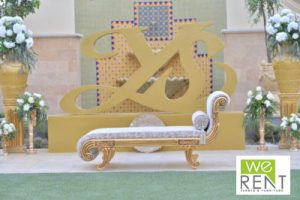 100. White theme
Another Idea you can see at our event inspiration page. www.werentegypt.com