So, you are planning an event and there are a lot of thoughts going through your head. This is completely normal. The Why, the How, the Where, and the When, it all builds up. This can easily be a stressful time. Maybe it's an office party that your boss has decided you are responsible for – that's definitely a lot of pressure. Or maybe it's your wedding – debatably the most important event of your life. Whatever the occasion, this article is here to help you, guide you and hopefully distress you.
Event furniture is one of the most important aspects of an event. No matter what the occasion, you know that you need to make a great impression and the furniture is a core part of that. Renting is considerably cheaper than buying, and there are so many benefits to renting event furniture. In this article, we're going to explain what each of these benefits are.
Obviously, your decisions will heavily depend on your event, but there are other things to think about. If you rent event furniture, you should think about the first impression that you are going to give. Is event furniture the most important aspect of your special occasion? Well, this article can't answer that. That's up to you to decide. But what we can tell you is that, it is important. But you probably already knew that. Your guests (or perhaps clients, if you are planning a business event) will be judging the overall presentation. Event furniture rental is so important to help you make the right impression. Of course, your guests are going to judge other aspects of your event. Food tends to be a major factor in how guests rate the success of any event, including yours. But few things are more important than creating that elusive, ever-so-hard-to-do, WOW factor when your guests walk through the door for the very first time.
 Event Furniture Supplier
If you choose to get event furniture, you need to first consider the supplier. Word of mouth is generally the way event rental companies that hire out furniture rely on. Reputation is key. So, if possible try to get some recommendations from friends, family, or anyone else you know that has had a similar event and might be able to point you in the right direction. Sometimes, this isn't always an option and so you have to go to the next best thing – online reviews or check the rating on their Facebook page. That is unquestionably one of the greatest things about living in the digital golden age – user-generated content.  Another quick search and you can find out what people are saying about them. Be aware of the website and make sure it looks legitimate. When it comes to searching for any kind of client, business, or supplier online, it's always best to go with your first instinct. For a legitimate furniture company check www.werentegypt.com
Value and Quality
The importance of a good rental event company cannot be underestimated. It is essential for many reasons. Firstly, you want to make sure you are getting a good deal. In the event furniture rentals business, prices can fluctuate between companies for a number of reasons, such as location and time and we will talk later about the quality of the event furniture too.. always look for Event furniture Companies that are experienced and help you set up your event.  It pays to do your research and be throughout and to be organized and look for everything that you need in advance.
The second reason that your supplier is important is because of quality. Sure, you may be getting a good deal but what about the quality of the rental event furniture you are getting. Remember, your guests won't see the final bill. That is something that only you know. But your guests will know the quality. So, you need to make sure that the event furniture says what you want it to be about you and your planning skills.
A good company will show you so much more than just tables and chairs. In fact, when people do a search for rental event furniture, that is normally the main item one needs. But there is so much more on offer. Event rental furniture is not so limited. You can decide the centerpieces for each of the tables and the color of the theme. And if you have a  dance floor, you need to start thinking about lights too.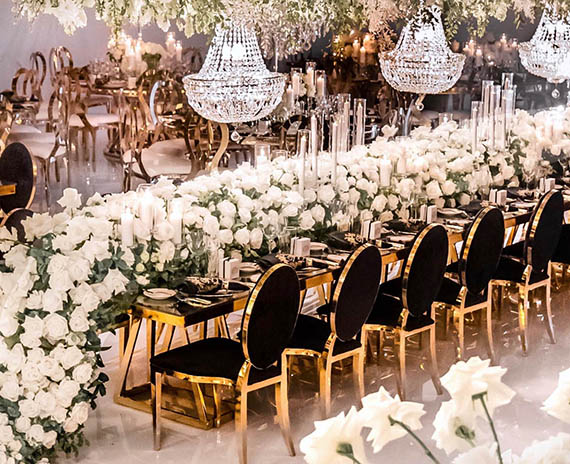 Budgeting for your event rental needs
It can be a bit like a child visiting a sweet shop, suddenly you want everything in the store and you don't know what to take and what not to take. Do you really need the chocolate fountain for your party? Is it necessary to get the giant clipboard for the business presentation? These are things you need to think about when you want to rent event furniture. The very first thing you need to do is make a budget. This is the cornerstone of planning and essential to ensuring the success of your event. Don't confuse wants and needs.
Once you have found your event furniture rentals supplier and once you have decided on your budget, you're almost ready to enjoy the party. You just have to make sure that you read the small print on what you sign. What about returning the rental furniture and what about damages, what's going to happen?
But one thing is for sure, furniture rental for events will ensure that you keep your costs down because you don't have to permanently buy furniture and pieces that you probably won't need or you will probably never use again.
Conclusion
You will have the chance to make an awesome first impression with all your guests (or clients). I mean, everyone wants to have their guests talking about the event for weeks to come. So, when considering furniture rentals for events or if you want to rent furniture for conferences make sure you do your planning.
Browse our website at www.werentegypt.com for a wide selection of Event furniture, lightings, accessories, and much more.